Doggie Boot Camp

One option here at Absolute K-9 is to bring your dog to our in-kennel training program, also known as Doggie Boot Camp. While boot camp may conjure images of a drill sergeant barking out orders to the troops, rest assured that this program, like all of our programs, is designed with your dog's health, safety and well being in mind. Having said that, please know too that we run a tight ship in order to teach your dog what he or she needs to learn in order to be a great pet for you and your family.
Thanks to this deal, there has never been a better time than right now to get your dog properly trained. Call us at (858) 299-5529 to get started.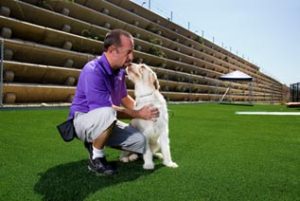 Benefits of Doggie Camp/ In-Kennel Training
For most of us, life moves at a hurried pace and we struggle to balance the many obligations and activities that fill up our lives. As a result, we may not have the time to work with our dogs as much as we would like in order to make them the better pets we envision having in our family. This is not to say we don't want to, but just that time can be a considerable constraint. In-kennel training gives you a valuable opportunity to provide your dog with the training s/he needs, thus enhancing both your lives, while still meeting all of your other obligations. It enables you to meet your dog's needs, and make them happier and healthier, without compromising your own needs and obligations.
How Doggie Camp/In-Kennel Training Works
Before doggie boot camp begins, we work 1-on-1 with you to learn about the challenges you face with your dog, the types of skills and behaviors you would like her to learn, the lifestyle you and your pup enjoy, and address any questions or concerns you may have about your dog.  Once we develop this complete picture of your life with the pup, we will develop a comprehensive training plan best suited to your dog's success and wellbeing. (Learn more about our training philosophy and methods here.) We will then invite your dog to our training facility where we will work closely with them, teaching:
obedience, on and off leash and in public amidst heavy distraction (you will often find us in the lobby of Snug Pet Resort)
house manners, taught in a realistic home environment
proper interaction with other animals and people
Furthermore, we get your dog ready to succeed in the unique habitat in which he lives—your home. If this means getting him used to being around children or cats, this is what we will prepare him for. If this means getting her used to vet visits, we will get her used to, and comfortable with, the vet office environment and the handling that often takes place at the vet. In fact, we have a vet on staff at our facility 6 days a week, providing not only peace of mind that your dog is in the best of hands, but also providing us an opportunity to teach these important skills. If you want to bring your dog into public, we will bring her into public, getting her not only comfortable, but ready to respond to your commands despite distractions and temptations. If your dog doesn't enjoy you having visitors over, we will make sure they come back to you ready to behave in front of your company. In addition to these environment and lifestyle specific skills, we also work to eliminate and prevent all problem behaviors, including house soiling, aggression, possessiveness, leash pulling, barking, chewing, digging, and more.
Once we have taught your dog all they need to learn in order to succeed as part of your "pack", we will bring your dog back to your home and teach you how to continue this training. We will give you all the information and resources you need to know in order to maintain your dog's new outlook on life. Once your dog is behaving back in your home, we also invite you to attend a weekly class, available for the rest of your dog's life, in case you should need or want a refresher course or if new issue should arise. We also offer boarding for in-kennel training graduates who may be in need of a refresher course or just a few day's vacation from the family while they are away.
With in-kennel training, we guarantee that when your dog comes home, s/he will be trained to succeed in your family.
How to get started
Congratulations on your readiness to provide you and your dog a greater chance of success together! This is the first step toward a real improvement in your relationship with your dog and your overall happiness (And sanity!).
To learn more about our In-Kennel Training and to get your dog enrolled in this valuable program, please call our office at (858) 299-5529, or you can email us.
Once our qualified trainers have had the opportunity to speak with you, we would be happy to set up an in-home evaluation so that we can meet your family and your dog, and gain a better understanding of your home environment, your pet's behavior, your goals for training, and more. This is crucial part of the process because we get a chance to learn precisely what type of environment we need to train your dog to fit into.
Once we have met you and your pup, we can provide an exact price (see cost of service to learn more) and schedule your pet(s) in for training.
If you are interested in learning about our other services, to determine the one that is best for you, please also read about our private training, which may be most appropriate for work on just one or two mild to moderate doggie issues.