Toni Stone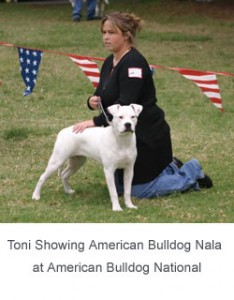 Toni brings a whole other aspect to Absolute K-9 Training. It is true that much of her training ability was given to her by Mike, but Toni was no stranger when it came to dogs. When Toni was the young age of twelve, she had her first experience with dogs by becoming a dog groomer. Grooming took her most of the way through high school until she certified herself as a veterinarian assistant and then worked for a few vets. After the vet experiences she then got hired on at a very popular boarding facility and soon they had her helping manage after a few months.
Although she loves obedience training and titling her dogs, her real love is for showing. Toni has championed and helped champion a few different breeds for both the AKC and the ABA. She has won National Specialty best female in show with Mike's American Bulldog Moxie and has many more up and coming champions she plans on adding to her list. One of the best experiences Toni speaks of is when she got to take a client's Labrador "Hunter" to an Animal Planet filming. It was a part for the dog to reenact a scene where he saves the family from a tornado. It was an excellent performance by both dog and handler. FOX 6 News approached Toni to help start a segment in the mornings on the news called Pet Academy. Going into peoples homes and helping them fix whatever behavior problems their pets might have. The segment has become a huge success on Fox in the morning.
For the past three years, the San Diego Humane Society has asked Toni and Absolute K-9 Training to set up their famous agility course to help promote their annual walk for animals. Every year Toni has been asked, she finds it a pleasure and honor to help the wonderful organization. Not to mention the fun she has running around with the dogs on the agility course. Most all the clients at Absolute K9 Training work closely with Toni and ask for her help and guidance with anything from training, to dog food nutrition as well as their pets health. As most people know Mrs. Stone has no problem offering her opinion and helping people out with their pets. It is true she loves what she does!