Puppy Training

Puppy training is the single best thing you can do to give your new dog the best chance in life to be happy, balanced, well mannered and to co-exist peacefully with his human family. Training is a proactive step that works to prevent the possibility of later surrender of your dog to a shelter because of irreconcilable behavior problems. This is no small matter. In fact, half of all the 13 million dogs and puppies that are adopted every year are surrendered within the first year and many of these are not adopted out again.
During the first year of your puppy's life you have a tremendous opportunity to shape your puppy to be a well-adjusted, well behaved, and balanced dog that thrives in her home environment with her human family. But, since dogs don't come into our homes equipped with a user manual, we often need some guidance and help understanding our dogs and teaching them how to behave amongst humans and their habitat.
And there is so much to learn and experience with your new puppy. There are many factors that new puppies encounter when arriving in a new home, such as:
Other animals or children at home that the puppy will meet
The first night at home
Deciding where they should sleep (a crate? In your bedroom?)
Potty training.
Developing a feeding schedule.
Leash walking
Setting rules and boundaries for the new pup
Bathing
Walking
Socialization
Playtime and enjoying the new addition to your family
And so much more
Training should begin from the first moment your pup steps paw into your home. He will need consistency, discipline and calm assertiveness from his human leader, as well as play and affection. Successful training will leave both human and puppy feeling a sense of accomplishment as well as strengthening the bond between them.
How Should You Train Your Dog?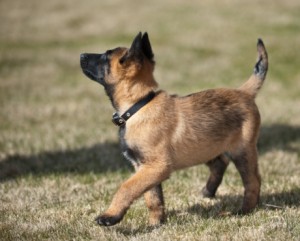 Well, this is where we come in. At Absolute K-9, we believe puppy training is crucial to success with your new puppy. We offer a free consultation during which you can ask our experts all of your puppy questions, gain a better understanding of your pups behavior and needs, learn how to be a successful leader, how to master important matters such as potty training, socialization, basic obedience, and more, and learn how to identify and avoid any potential problems before they develop. Furthermore, if your pup has already developed some unwanted behaviors, we can help you to solve these issues permanently.
We work with you and your dog so that we can best prepare your puppy for life with you, given your lifestyle, home environment, and training goals. We offer an in-home evaluation, where we come to your home to meet your puppy and family, observe your dog in its "natural environment," speak with you about your concerns, questions, and goals, and discuss the best training plan for you and your dog; And its 100% FREE!
To learn more about our puppy training at Absolute K-9, please contact us today by calling (​800) 961-6442 or you may click here to email us. We look forward to working with you and congratulate you on taking the responsible step towards success and happiness with your new puppy!