About Absolute K-9
In April 1994, Mike Stone opened Absolute K-9 Training Inc. with his wife Toni. Over the last 15 years, the business has grown, prospered and earned a reputation as one of the best and most trusted in the canine obedience field. Mike, Toni, and the other certified trainers of Absolute K-9 make an excellent team, combining not only exceptional skills with canines, and international certifications, but also an amazing way with people.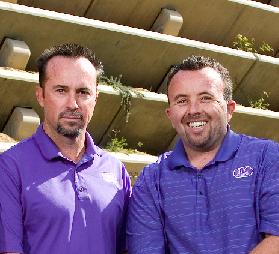 Mike Stone is a certified trainer in the US, as well as Germany and England. Not only is Mike certified in obedience and protection training, but he is also a certified kennel technician and police dog trainer. After many years as an instructor at a dog training school, Mike decided to make training dogs a career and opened his own company. Three facilities and almost fifteen years later, Absolute K-9 Training Inc is the most successful and respected dog training company in all of San Diego.
Our Trainers –  When it comes to your dog, why not find the best?
Our trainers are nationally renowned for offering the best dog training in California, and perhaps even the nation. In fact, we have earned such a fantastic reputation, that celebrities and everyday enthusiasts alike call us from near and far, wanting to bring their dogs through our training program.
Our trainers have over 40 years of combined training experience. Furthermore, Absolute K-9 has been rated among San Diego's Top Dog Trainers throughout our 15 years of dedication to canine wellbeing and training. We are the only training company around that has licensed and certified trainers that actively compete and judge nationwide. Some of our instructors are even certified internationally, holding certifications from Germany and England.
All of our trainers are exceptionally qualified and have extensive experience training competition dogs, police dogs, and other highly trained canines; a level of training that far exceeds the basic training that would benefit most household pets. And while you probably do not need your dog to perform "bad guy take downs" or complicated search and rescue efforts, why not seek training from professionals who can master the most complicated of dog training feats?!
What's more, we are intimately connected with the needs and training goals of the average pet owning family. We assure that our training will serve your unique goals and expectations for dog training. Please read more about our training philosophy and methods here.