Mike Stone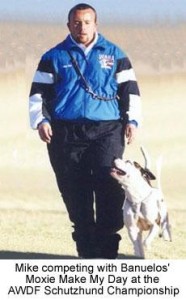 Mike is the guy you want standing next to you if an angry dog was charging your way.  He has successfully trained hundreds of dogs of all breeds, ages, and sizes, in a variety of contexts. He has a wealth of experience training household dogs, from puppies needing to get off on the right foot, to the smaller breed with submissive urination, to the large adult dog with serious aggression problems. He has also trained protection dogs, police dogs, competition dogs, and other "professional" canines.
Most recently Mike took on a rescued Pit-bull puppy to train her to smell out peanuts and peanut products for a family with a child that has severe peanut allergies. Identified new concept Luxury Pet Facility with every element (Boarding-Grooming-Training-Vet Hospital) under one roof and became business partners with NFL Legend LaDainian Tomlinson (LT)
Celebrity Clientele
Tom Brady and Giselle (Patriots & Model)
Drew Lachey (Singer and Winner of Dancing with the Stars)
Nick Lachey (Music and TV star)
Caccee Cobb & Donald Fasion (Reality Show Star & Movie Star)
Rita Hazan (Celeb hairstylist)
Jaque Cesaire (Chargers)
LT (Chargers & Jets)
"Sugar" Shane Mosley (Boxer)
Ryan Klesko (Baseball)
Jason Austell (TV Personality)
David Wells (Baseball Hall of Famer)
Paul Oliver (Football)
Rick Roberts (AM Radio DJ)
Tommy Sablan (FM Radio DJ)
Robert Deleo (Stone Temple Pilots)
Dean and Susie Spanos (Charger Football owners)
Shawne Merriman (Football)
Kassim Osgood (Football)
Junior Seau (Football)
Quentin Jammer (Football)
Robert Sarver (Owner Phoenix Suns)
Community Confidence
San Diego loves Absolute K-9 Training. Mr. Stone was asked by KCBQ to start his own radio show giving the listening audience help with their pets via the airwaves. The program has grown into a two-man show with both Mike Stone and Dr. John Boyd of Pacific Pet Care in Delmar. The radio show is called "Pets and Vets" airs Saturdays on KCBQ 1170AM. Mike also works closely with local radio host Rick Roberts of KFMB 760. Rick has Mike train his shepherd and frequently has him on his show to talk dog training. From Ryan Klesko of the Padres to Charger's MVP LaDainian Tomlinson, Mike has earned a reputation in San Diego for being not only the best dog trainer but also the most responsible and helpful.
While we are well known in the celebrity world, you don't need to hear about us from someone famous to understand how we operate. Just take a peek at our testimonials page to read the unsolicited comments of our clients.
Q. What is "Schutzhund?"
A. One of the toughest training feats in the world!
One of Mike's greatest accomplishments is successfully training the first-ever female American Bulldog, Moxie, in the history of the breed to a Schutzhund three title. For those that do not know about Schutzhund training or the amount of hard work that must go into it, please see our Schutzhund page. Currently, Mike is training Moxie's daughter, Alabama, in Schutzhund and hopes to take her to the same top level earned by her mother. Mike is also currently helping other dog hobbyists reach their goals in the sport of Schutzhund with their dogs.
MIKE STONE'S ACCOMPLISHMENTS
First Schutzhund Three Female Bulldog ever in the breed
3-time American Working Dog Federation Team Member
Certified Helper/Decoy
Working American Bulldog Association Trial Judge
American Bulldog Association Conformation Judge
3-time National Rottweiler Championship Decoy
"Canine Counselor" Radio Host on PETS AND VETS RADIO KCBQ
Frequent on air expert on both AM and FM Radio in San Diego
ABA Working Judge
ABA Show Judge (in US and Nationally)
Certified Dog Trainer in Germany, England and the US
Police Dog Trainer
Narcotic Detection Dog Trainer
Titled the first ever Female American Bulldog to a Schutzhund Three Title
Certified Schutzhund Decoy
Rottweiler Schutzhund Nationals Decoy and Protection dog winner
Thousand of Trained and Rehabilitated dogs
Dog Trainer for over 20 years
Service Dog Expert
Expert witness for dangerous animal trials
Expert speaker for training of Government Officials on how to handle dog attacks
CEO and Co-Owner of Snug Pet Resort & Animal Hospital
Multiple awards for Schutzhund HIGH IN TRIAL, HIGH IN OBEDIENCE, HIGH IN PROTECTION
Trained hundreds of dog and handler teams to complete obedience and schutzhund titles
Finished American Bulldog Female in confirmation Ring as well as Winner of ABA National Show
Supplied dogs and training for FEAR FACTOR segments