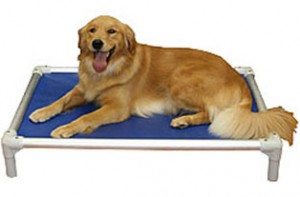 Absolute K-9 and Snug Pet Resort now have state of the art Kuranda beds customized for our facility for your pet to enjoy. As a result, we no longer accept beds from home but welcome blankets and other belongings that are permanently marked with your pet's name.
Please reach out to us with any questions.
When heading out to the local park, trails, or other outdoor areas, it is important for dog owners to be aware of ticks, which are most common in San Diego County from November to April.
In addition to causing irritation, ticks transmit serious diseases including Lyme disease and tularemia, which can affect a person or animal's health for months or even years.  According to the Director of San Diego County Department of Environmental Health, Gary Erbeck, people who visit grassy, brushy, or wooded areas with their dogs should take special care to avoid picking up ticks. (more…)
As we come out of May gray and June gloom, San Diego is gearing up for summer in all its Southern California splendor.  While we are treated with gorgeous weather all year round, these are some of the hottest months and higher temperatures raise special concerns regarding your dog's health and safety.  The following video highlighting Snug Pet Resort and AbsoluteK9 from Fox 5 San Diego, and blog below, review some warm weather considerations and tips on how to keep your dog cool in the summer!