Some dog owners believe that proper dog training is reserved only for those who have competition or show dogs.  But the truth is that every dog—and their families—benefit tremendously from dog training.  Equally true is that every dog can be trained—this is something we firmly believe here at Absolute K9.  In our decades of experience training dogs, we have found countless benefits for both the dogs and humans we are pleased to work with.
Here are the top five reasons to train your dog:
Dog training improves your relationship with your dog. Dog training is really an education for both the dog and its human family; and, as such, it fosters a harmonious relationship between them.  Dogs, like their wolf ancestors, are pack creatures.  They naturally seek a leader.  If their owners do not assume this leadership position, often gained through dog training, the dog may try to become the leader, which can lead to a host of problems.

(more…)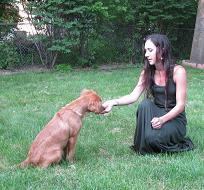 This March Absolute K9 is highlighting 3 specials that ALL dog owners should consider taking advantage of. From FREE socialization classes to heavily discounted (over half off!!) in-kennel training programs, Absolute K9 has a special for every dog owner.
Free puppy socialization classes will be offered every Saturday in March at 10am.* The focus of the class is educating new puppy owners about the socialization process. Also covered will be topics such as: housebreaking, crate training, beginner obedience, environmental enrichment and of course – puppy playtime! Contact us today to reserve a space for YOUR puppy.
For those whose dog needs a bit of obedience training, a 6-class series of courses is being offered for only $99. (more…)