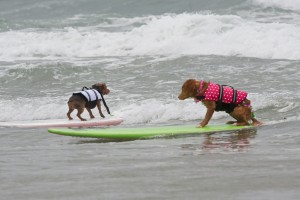 As San Diego's foremost dog training company, Absolute K9 is proud to sponsor a fun and exciting charity event.  Saturday, May 22, 2010 marked the 5th annual Loews Coronado Bay Resort Surf Dog competition, an exhilarating event for both dogs and people.   We are happy to show our support to the San Diego Police Department's Canine Unit and the non-profit organization Modest Needs Foundation, this year's surf dog fundraising beneficiaries.
More than 2,000 people from as far away as Minnesota and Hawaii flocked to this event held on the shores of Imperial Beach, San Diego.  Among these spectators were actors Owen Wilson, George Lopez, and George the Great Dane, all premiering in a new dog movie called Marmaduke, opening Jun 4, 2010.
This surf competition attracted 65 canines small and large, all competing for a chance to take home the gold in one of the most beloved sports in San Diego: surfing.  Each of these dogs had ten minutes to strut their stuff in the surf, showing off their two best wave rides as judges weighed in on their confidence, ride length, and general ability to "grip it and rip it" and "hang 20."
For some of these dogs, Saturday was their first time surfing, while others had previously competed in Loews Coronado Bay Resort Surf Dog competitions or elsewhere.
Thousands of spectators thronged to get a closer look at these amazing canines, which competed in three heats: one for small dogs, one for big dogs, and one for tandem dog and human rides.
Here is the breakdown of our big winners of this year's surf dog competition: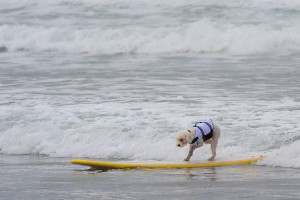 Heat One: The Small Dogs
Smallest dog to enter the contest was Bobby Gorgeous, a 5-pound Pomeranian from Hawaii.
The winner was Abbie, an Australian kelpie hailing from North County, who took some long rides on a few tasty waves to clinch her spot as top dog.  Runners up were Shih Tzu Toby and a Nova Scotia Duck Trolling Retriever named Torri.
Heat Two: The Big Dogs
A Chesapeake Bay Retriever named Stanley surfed into first place in the big dog competition.  In second place came the biggest dog to enter this year's dog surf contest: Nani, an 85-pound Bernese Mountain Dog.  Taking third was Kalani, a Golden Retriever who also placed in the third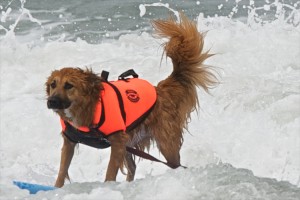 heat.
Heat Three: Tandem Dog-Human Surfing
In the last heat, a Golden Retriever duo dubbed the Twisted Sisters took first; Buddy, a Jack Russell terrier, and his human dad took second; and Pudge, an English Bulldog, and his dad took third.
Each of these surfing canines earned exclusive bragging rights both at the dog park and in the surf line up.  The winners from each heat also won a pet vacation at the Loews Coronado Bay Resort.
Absolute K9 partnered with Loews to make this year's dog surfing contest possible, contributing to the $45,000 this fundraiser has earned since 2005.
For pictures from the Dog Surfing Competition Click Here.